FC Chaparral's Bialy B Gone
CD, SC, ARM, ORC, FCH, CGC, AV,
DOB 5/29/91, Call Name: Bialy
By: Lyth York, ARM, SORC x Chaparral's Tejas Honey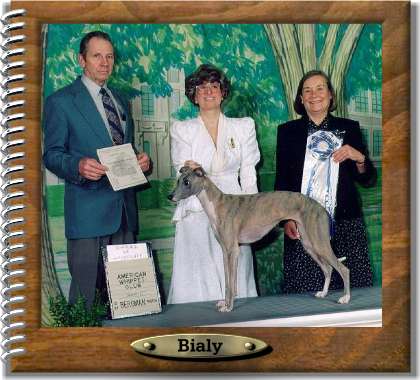 Bialy competed on the straight track prior to the start of the Whippet Racing Organization (WRA) and thus is a straight track champion under the now defunct AWC's National Point Racing (NPR) Program. Her AWARD OF RACING MERIT (ARM) certificate reflects Number 275 and was awarded in May 1993.
Bialy was also shown in several National Specialties. In 1992, she was awarded 4th Novice Bitch in Frederick, Maryland.
In Atlanta. At the 1997 National Specialty, Bialy won a beautiful silver bowl for beign high scoring obedience Whippet with an AKC FC. She was in the Graduate Novice Class.
All her racing career, she was a bitch who ran with her heart and soul. She was hightly respected in all the field venues in which she participated – racing and coursing.
Bialy's very first adult race was at SHOW-ME's qualifying trial on her 1st birthday. She won that meet over at least one A-Rated competitor that ran all 4 programs. She is also a NOTRA Race Meet Winner.
In obedience Bialy won her Companion Dog (CD) title with two Novice B Third Place performances and one High Whippet in Trial performance. She's a dog of a lifetime and my best friend as well as an Olympic Star in her own right. Bialy has always been
<![if !vml]>

<![endif]>
In July 1994, Bialy racked up another win. This time it was the JRR Versatility Weekend In 3 days, she competed in a NPR meet, a NOTRA Meet, an ASFA Coursing Meet, a Fun Confirmation Match and a Fun Obedience Match.
<![if !vml]>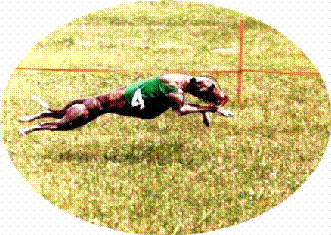 <![endif]>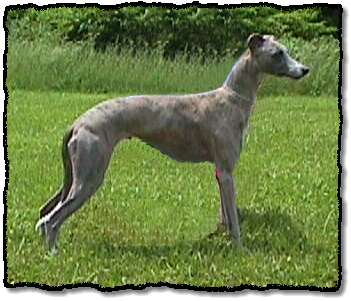 Speed – Beauty – Intelligence – Heart – Devotion
All traits that define this very special Whippet!!!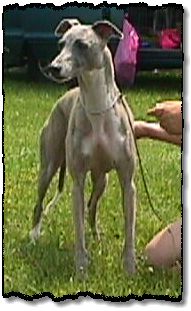 FC Chaparral's Bialy B Gone

CD, SC, ARM, ORC, FCH, CGC, AV,
DOB 5/29/91, Call Name: Bialy
(click here to get back)


LYTH YORK
LYTH DJON
MALBON REDCENT
EngCH SHALFLEET SAILING FREE
SHALFLEET SKYLINER
EngCH SHALFLEET STARSTRUCK
MALBON LADY TOPSIE
BRIGHT DAYS
HERONVILLE DIANA
CHINNOR HOT GOSSIP
LYTH TOM THUMB
BLUE NIGHTS
LYTH LENA
CHINNOR SPRINGTIME
CURLAND THE POACHER
CHINNOR GOODY TWOSHOES
W R CRYSTAL SUMMER ENERGY
REGALSTOCK AMBERWOOD TETRARCH
AMBERWOOD MAXIMILLIAN
TOPPER SUNNY REFLECTIONS
WHIRLAWAY DEVIL WOMAN
SCRAM VIRGO
AmCH BRIARWYN BLUE STONE
SCRAM WHISPER
REGALSTOCK MEAN MACHINE
VAN OORSCHOT TORO
MIDST DU PILIER ROUGE
AmCH VAN OORSCHOT VAL O'LEGENDARY
TOPPER WISTFUL OF REGALSTOCK
AmCH PINETOPS OPENING KNIGHT
CRICK-E-SU LOVIN' LILY
CHAPARRAL TEJAS HONEY
VAN OORSCHOT TORO
MIDST DU PILIER ROUGE
JASSY BRO-GORNOG
E'BOYS DES BALMES
G'HERMINE DES BOUS AMIS
BRETTELAY JUMPING GIRL
SPRINGMERE WAGGER
AmCH SPRINGMERE LADY JET
AmCH VAN OORSCHOT VAL O'LEGENDARY
AmCH LEGENDARY BROADWAY JOE
AmCH PINETOPS OPENING KNIGHT
MADCAP TIME LIMIT
HOLLYPARK FORTUNE COOKIE
AmCH STONEY MEADOWS ROYAL FORTUNE
AmCH EYLELAND BROWN BETTY
AmCH ROCKHILL WINDY BLU BRITCHES
CHALLENGE TO DESTINY
AmCH GOLDEN RAINBOW
AmCH BISMARCK OF FRISIA
MEANDER CARLESS
SHALIMAR DE MANILA
AmCH COVENTRY JUMPIN' JUPITER
TAMARA PERIWINKLE
CRITTER OF DESTINY
CHANGE IN DESTINY
AmCH PENNYWORTH WOULD YOU BELIEVE
AmCH LEGEND O'LAZELAND
URUHU KARMA
STRATHOAK SPRING INTRIGUE
AmCH URUHU ROLLING STONE