Tsingay Tam-Bo-Lin
TSCA CH (British Import), CD
DOB 06/24/76, Call Name: Buddha
By: Eng. Ch Ram Chandra of Amcross x Wildhern Taranatha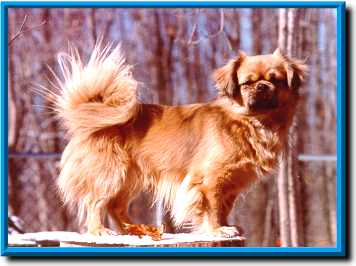 This photo was in the August 1983 Edition of "Dog World". That is when the American Kennel Club (AKC) gave full recognition to the breed. Tibbies are in the Non-Sporting Group. Buddha's photo was printed to show people a "Portrait of the Tibetan Spaniel"
A drawing of Buddha's head was used for many years on TSCA stationery, shirts, and tote bags. He earned his CD just 3 months before turning 10 years old. He lived to be almost 15.
Buddha's bloodlines are found in some of the top Tibbies in the US. He was registered in the AKC stud book as foundation stock for the breed and used at stud to some of the best bitches of his era.
Gone but never forgotten.