Am./Can Ch. Waome N Whillo B's Dreamweaver
(Canadian Import)
DOB 02/13/99, Call Name: Cat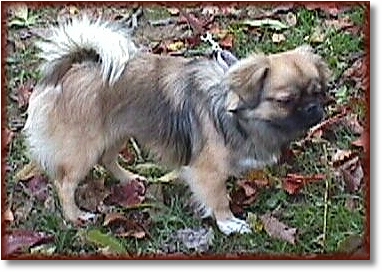 Cat, the Tibbie with a Waome Attitude, is a very special Tibetan Spaniel. She was brought to Whillo B by her breeder, Linda Matthews, of Bracebridge, Ontario, Canada, in May 1999.
This Tibbie is ALL PERSONALITY and mischief...yet anyone looking in her eyes sees the soul of an Ancient One.
Cat is a link - to both the past and the future. She carries many of the bloodlines that take us back to our first days as Tibbie owners. her grandsire was our Mouse's sireand she has Chone's sire in her lines as well. She's very much like the type of Tibbie we knew so long ago. She has hare feet and a monkey face.
Linda... thanks for this wonderful gitl who thinks she's top "Whippet" at Whillo B Whippets.