Windyglen's VRM Flea B Fleet
CD, WRCh, ORC, FCH, CGC, AV
DOB 2/7/95, Call Name: Flea
By: John Henry vom rauhen Meer, FCH x Windyglen's Spuds McKinsey, CC, CM, FCH (Sire is a German Import)
(click here to see the complete 4 generation pedigree)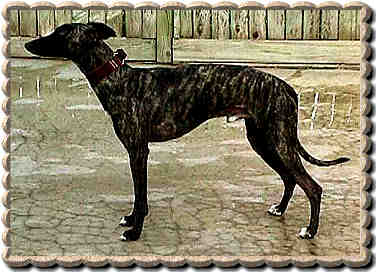 Flea was the second whippet to earn the WRA title. The first dog was FC Mirage Crystal Light, ORC, FCH, WRCh "Crystal" was 1 point short for her ARM when the AWC ended the program and the NPR points carried into the WRA program that replaced it. Crystal is owned by a good friend, Darlene Buck.
Flea is a multiple Notra race meet winner. He had 5 wins in 1997. He finished both of his racing titles by the time he was 18 months.
He's as avid a courser with 5 Firsts and 2 seconds at ASFA meets.
He earned his CD title in 3 straight AKC all breeds Trials and finished the year on the Delaney Scoring System as # 2 Whippet in 1998.
His first leg was a 192 and he was High Scoring Hound in Trial.
His second leg was a 194 and his third leg was a 193.5 and 3rd place in his Novice B class.
Flea earned a second place (3 points) in his first AKC lure coursing trial.
In 1999, Flea received the AWC's "Award of Versatility" at the St. Louis National Speciality.
He also won the Jersey Rag Racers (JRR) Marathon Trophy donated by Jack McManus for high scoring dog without an ORC.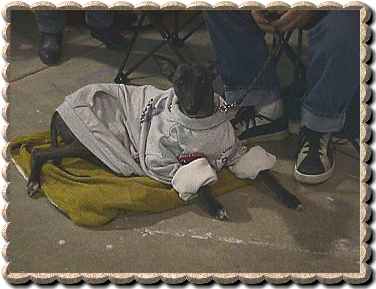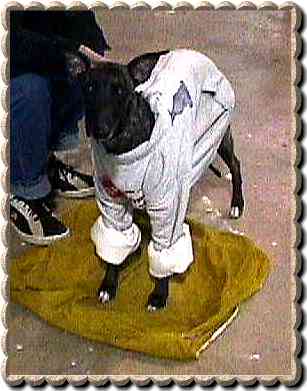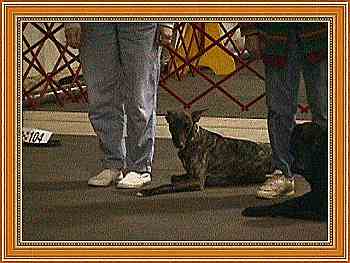 www.aiv.net/shannon/whillob
designed + provided by Aiv.net