Bet'R Zchao Shun Ya Suh
DOB 06/22/85, Call Name: Ivory
By: Calamalca Cassidy x Ambrier's BET R Parti Girl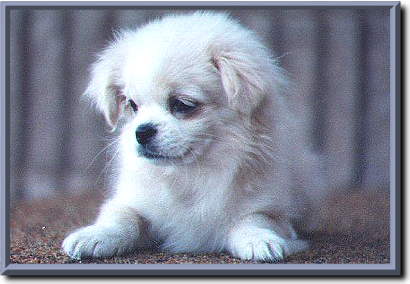 Bet R Zchao Shun Ya Suh is literally translated in English as "Little Elephant Tooth Color". At full growth, she was 6 pounds and certainly elephant tooth color with silver highlights and pink skin.
She is the only AKC champaign colored AKC registered Tibbie.
Ivory never earned any official AKD titles but she has always carried than HHP (House Hold Pet) and enjoyed her senior years with loving friends in Bon Aire. She was a spunky, elegant Tibbie who had all of the characteristics expected of her breed.