Bet'R Zchao Gwei, CD
DOB 10/10/83, Call Name: Mouse
By: AM/BDA/CAN Ch Fairstar Cho-Sun x Ambrier's BET R Parti Girl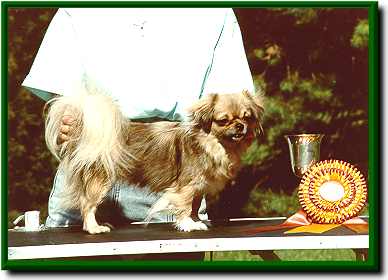 Mouse was a pint sized Tibbie. She was 1 lb. 9 oz. at 10 weeks. No one thought she would live. She attained the great stature of about 8 inches and maximum weight of 6.5 lbs.
She competed in the AKC Centennial Obedience Trial and earned her CD with scores in the 190's.
She was truly the "Mouse that Roared" as she chased whippets that annoyed her and collected their chew hooves, guarding them fiercely against retrieval. She was also "Mouse of a Million Kisses".
Mouse lived to be 13 years old.