Whillo Bīs P O Blu Prune, JC, CRX
DOB 08/26/96, Call Name: Prune
By: Northern Wolf vom rauhen Meer SC, FCH, CR (German Import) x FC Chaparral's Bialy B Gone CD, SC, ARM, ORC, FCH, CGC, AV,
(click here to see the complete 5 generation pedigree)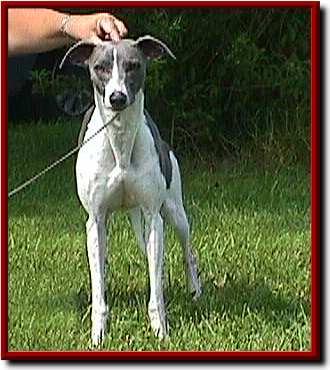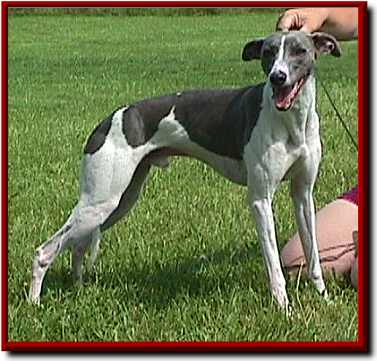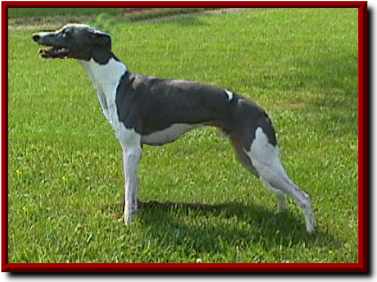 Here are some thoughts Judy Lowther has about Prune. Prune spent a few months as her guest in 1998. He was racing in the Mid-West.
"Gloria asked me to write something about Prune............Prune, oh what can be said about this wonderful Whippet? That he's a very striking blue/white, that he runs like the wind, that he is a most perfect cuddler, and an absolute gentleman. Well he does have one *small* flaw, Gloria says he doesn't like obedience.
And he is a thief, he stole my heart the first time I saw him. Gloria walked into the room and said this is Pruney.............I took one look, and said "now that one I could take home". And miracle of miracles Gloria consented to let him go, for a while.
Prune spent three months of 1998 in Cleveland with the Whippets of Pfyre. He taught me about racing, it is ever so much more fun if you have a competitive dog to learn with. His season ended a little early, with a *not too serious* injury."

www.aiv.net/shannon/whillob
designed + provided by Aiv.net