Whillo B's Hawk by Windyglen, WRCh, JC, CGC
WRCh, CGC
DOB 4/12/96, Call Name: Hawk
By: Northern Wolf vom rauhen Meer, SC, FCH x Taters McKinsey by Windyglen, NCA, ORC, RCH)
(click here to see the 5 generation pedigree)
Hawk was undefeated in the 1997 Whippet Racing Association (WRA) National Puppy Meet held in Jamestown, Virginia.
Hawk competes in WRA Meets and is accumulating National Points toward his WRCHX. He started NOTRA racing in 1999.
On August 2, 1998, Hawk won his first WRA meet by defeating 53 competitors at the New England Whippet Club (NEWC) race meet.
1998 Hawk was a multiple WRA race meet winner.. He ended the racing year as # 3 WRA in Top Ten.
Hawk is now co-owned by Judy Lowther, Pfyre Kennel, and he lives in the mid west.
He is also working in obedience at the Novice Level.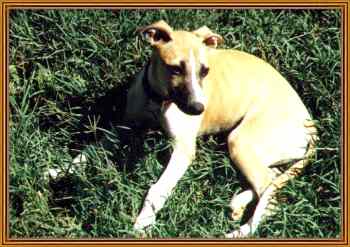 www.aiv.net/shannon/whillob
designed + provided by Aiv.net