Northern Wolf vom rauhen Meer
SC, FCH, CR (German Import),
DOB 10/29/94, Call Name: Wolf
By: Hawkster vom rauhen Meer x Juanita vom rauhen Meer (both in Germany)
(click here to see the complete 4 generation pedigree)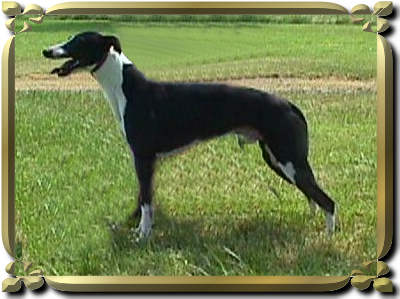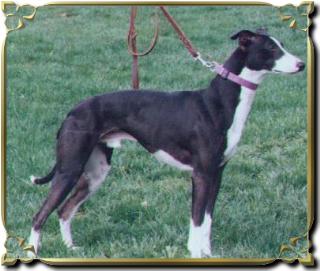 Wolf arrived in the United States after a long trip from Germany. He was only 12 weeks old and had never heard English before. We brought his "betrothed" to the airport so she could speak in Whippetese with him and make him feel comfortable. It didn't take him long to decide that the United States was a great place to live.
Unfortunately, Wolf sustained a major coursing injury that ended his competitive life very young. However, in addition to the titles he completed, he retired from performance sports with a 8 AKC Coursing points - first place in a 5 point major and 3 points for a subsequent second placement.
He has sired 2 litters of pups-- one by our FC Chaparral's Bialy B Gone, CD, ARM, ORC, FCH, SC, CGC, AV and one by the BOS winner of the 1994 NOTRA National Meet, Taters McKinsey of Windyglen, NCA, ORC, RCH.
Each litter had 7 pups (4 males and 3 bitches) and all the males had all their "boy parts!" (Great breed improvement!).
Our Whillo B's Hawk by Windyglen is his son by the litter from Taters and is WRCh and CGC. Please visit his page while you are at Whillo B.
His litter by our beloved Bialy has been racing, coursing, and showing as well as obedience training.
You can see our three on their pages
G.J.Heilan Laddie O Whillo B, WRCh (Laddie) owned by Gregg and Janice Gammie is almost finished with his ORC.
And, Del and Maggie Wasso's "kids" -- Whillo B's Patriot (Waco) and Whillo B's Ruby Ridge (Vicki) are racing both WRA and NOTRA. Both are NOTRA pointed and Waco has WRch points. At the Greater Chicago Whippet Show (GCWH) Sanctioned B Match on June 20, 1998, Vicky went BOB.
www.aiv.net/shannon/whillob
designed + provided by Aiv.net